AIM Athletes in Action
Debbi Lawrence Olympic-bound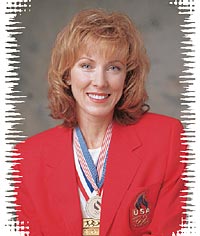 What could be a more convincing statement of the power of AIM?s nutritional line-up than a 42-year-old woman competing in her fourth Olympics and racing against girls half her age? Beginning her athletic career in high school and college as a national champion runner, Debbi Lawrence dreamed of running in the Olympics.
In 1981, a knee injury forced her to change sports and turn to walking. She became an immediate success. Her third competitive walking event was for the USA, in Norway. However, one dilemma still existed: how could she reach the Olympic Games in a sport that was not recognized as an official women?s Olympic sport?
Eleven years later, Debbi?s Olympic dream finally came true?a women?s walk was added to the official Games schedule. Debbi became one of three women on that first female walking team headed to Barcelona, Spain (1992). Since then, Debbi has made it onto two other Olympic Teams? Atlanta, USA (1996) and Sydney, Australia (2000). And, now, back to where we begin this story. Debbi is currently training and racing toward her fourth Olympic Games, to be held this year in Athens, Greece.
Debbi has utilized nutrition as a secret weapon to her success and longevity in the sport she loves. As a vegetarian athlete for the past decade, Debbi cherishes AIM?s BarleyLife?. It has enabled her to gain a training effect equal to training in the mountains, the typical performance enhancer for endurance athletes. Debbi credits AIM products for her quick recovery from workouts and the ability to exercise at the strenuous levels of her youth.
Let?s cheer Debbi?s Olympic efforts as she gets ready to compete in the 20km walk, (over 12 miles), just over ?the pond? in Athens this summer.
Go Debbi!
J.R. Celski?National Short Track Inline Speed Skating Champion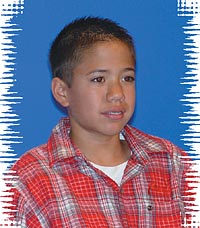 At age 13, J.R. Celski is the most decorated skater in his region among skaters 18 years old and younger. He has earned medals in seven National Inline Speed Skating events, including four gold medals since his first inline competition in 1995. We took a little time to get to know this accomplished young man.
AIM: J.R., what got you started in skating?
J.R.: My two older brothers started speed skating when I was two and I thought it looked fun. I wanted to start skating from then on and got my first pair of plastic inline skates for my third birthday. I?ve been skating ever since.
AIM: What do you do to stay in top condition?
J.R.: I train six days a week. Three days?two hours of inline skating; two days?two hours of ice skating; one day?off-ice drills. I also have a conditioning class, run Mondays and Thursdays, lift weights on Tuesdays and Fridays, and do leg workouts on Wednesdays.
AIM: Wow. That?s quite a schedule. What part does nutrition play in your regimen?
J.R.: I know my body needs to perform at its absolute best and that means I need to eat nutritious foods and drink lots of water. I take AIM BarleyLife? two times a day, right after I get home from school and right before bed.
AIM: What has been your experience using AIM BarleyLife??
J.R.: I have been taking AIM BarleyLife? twice a day for the last 18 months. It helps with my endurance, strengthens my immune system so I don?t catch colds so easily, and helped me overcome my allergies, so my training isn?t interrupted.
AIM: You are a very focused young man. What are your goals for the future?
J.R.: My short-term goal in inline skating is to win at Nationals this year, and in ice skating to earn Category One, the most elite category in the US.
Watch for more on this excellent athlete and outstanding young man!
Copyright ? AIM International, Inc. Used with permission.
A&L Houston
PHONE: 603-944-1456
Email:

Your Independent AIM Products Distributor
"AIM products are not intended to diagnose, cure, treat,
mitigate, or prevent a disease or illness. Results may vary per person"
This Web site including all coding is Copyright © 1998-2006 by A&L Houston All Rights Reserved