Never give up on your dreams!
AIM Member Martin Benning is on a quest to be the youngest cancer survivor to climb the highest summits of each of the seven continents. The ?7 Summits Cancer Climb? is intended to bring hope and awareness, and to show other cancer survivors that they, too, can still fulfill their dreams. The first summit to be conquered is Alaska?s 20,320-foot (6194 m) Mt. McKinley (Denali), which Martin and his team will climb this June. To train for Denali, Martin?s team has climbed Mt. Rainier (elev. 14.410 feet/4392 m) not just once?but numerous times! Here, Martin recounts his first successful experience with Mt. Rainier.
By Martin Benning, Expedition Leader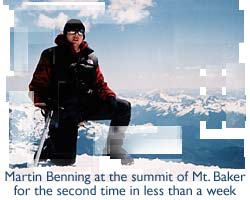 August 14, 2003
We head out to give Mt. Rainier?Washington?s highest peak?our second attempt. We had made it to 11,200 a few weeks earlier, but health issues coupled with high winds made us turn back. This time we set out to climb the Emmons Glacier route. We had been rock climbing for a few years and climbed Mt. Adams twice. It only seemed logical to climb Rainier.
We arrived at the White River Campground parking lot and got route beta from none other than climbing legend Tap Richards. Just two years earlier, Tap and a few other world-class climbers had rescued four climbers from 28,500 feet on Mt. Everest. We registered with the rangers and started the approach hike. After three miles in the hot sun, we arrived at the Glacier Basin camp area. We set up camp and filtered our water for the next day.
On day two, we headed up to Camp Shurman. We move quickly up the Inter Glacier and dropped down to the lower Emmons. After a few short hours, we arrived at Camp Shurman. We ate, melted water, spoke with some of the other climbers and went to bed early.
At 11:30 p.m., the alarm went off and we arose to a star-filled, moonlit sky. We ate a little breakfast and started the climb. The conditions were ideal as I led out onto the Emmons Glacier. We were the only climbers to head for the summit that day from Camp Shurman. We climbed smooth and fast for the first hour until I realized I had led us off our intended route. We were in an icefall that we had no business being in. As I stood on top of a serac (huge block of ice in the crevasse of a glacier) and peered down into a crevasse, I realized that being next to this bottomless abyss was no place to be. We moved quickly and were shortly back on route.
We hit approximately 12,000 feet when our perfect weather conditions deteriorated to high winds, snow and a white out. I looked back to my teammate, Jacob, and yelled out to him, ?What do you think?? He hollered back to me through the intense wind, ?Climb on!? Any other time, we would have turned back and climbed it another day, however this climb was a little different. We had been asked by one of my co-workers to bury the ashes of one of her very close friends (also a climber) on the summit. We climbed on. The burgshrund (highest crevasse of the glacier) in our route had fallen out of shape and the route traversed over to the Disappointment Cleaver. After a few more hours, we met up with that route and continued through the wind, snow and blinding conditions. We passed three or four other teams retreating back the other side of the mountain, but we continued on. We passed a party of two who said they had made it to the crater rim and took cover in a steam vent. They guessed the winds to be upward of 80 miles per hour on the summit. We were only 800 feet or so from the crater rim, so we decided to keep going at least to that point. We hit the crater rim and took shelter for a few minutes. The weather seemed to be improving. The winds had died down and the visibility was quite better. Jacob was feeling ill, but was still in high spirits. We headed across the crater rim towards Columbia Crest, the true summit of Mt. Rainier. As we climbed up the final steps, we stopped to sign the summit registry.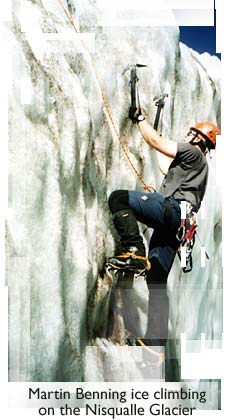 Having never been on the summit before, we continued up the boot pack until we hit a small plateau of snow and ice. We made it! After a few yells and a hug, we began what we came to do. I pulled the ashes from my pack, dug a small hole and buried them. We took some pictures and headed back. By the time we got to the other side of the crater rim, the sun was breaking through. Our descent was slow, but without incident. We arrived back at base camp and were greeted by the rest of the climbers. We shared our story and crawled back in to our tent, had a brew, and turned in for the night. The next day we woke up to beautiful sunshine and headed back down the Inter Glacier, down to Glacier Basin and to the car at the White River Campground.
In retrospect
Much like a climb, life doesn?t always play out like you plan. I was three years old when my life took its first divergence. I was diagnosed with acute lymphosetic leukemia. Much of my time was spent with my mom at Children?s Hospital in Seattle. I spent days on end in the oncology ward being pumped full of drugs, radiated and undergoing 15 different surgical procedures. A glimmer of hope and happiness broke through my white out every once in a while when Steve Largent or Dave Craig from the Seattle Seahawks dropped by for a visit. Years of this process went on and my leukemia eventually formed into central nervous system cancer and eventually became testicular cancer. I spent many more years making the drive with my mom from our small town of Indianola to Tacoma?s Mary Bridge Children?s Hospital. Ten years later, I finished my last treatment and have been in remission ever since.
Learning to climb on
After cancer, I've done my best to live my life. I began acting with my sister, Michelle, in the early 1990s and landed a role on the television show Bill Nye the Science Guy. I did a few other television and radio commercials as well as stage performances. I tested my skills on the football and baseball field as well. Some of my coaches were worried about my previous health conditions and kept me out of the game. They said it was too dangerous. My sophomore year of college, my friend Jacob introduced me to a new sport that he had discovered?rock climbing. Our rock climbing endeavors eventually lead to mountaineering. Not quite as dangerous as baseball (yeah, right!), but peering down a 500-foot crevasse, with massive seracs hanging off the cliff bands on 40-degree avalanche slopes, has its moments?sorry coach, we?ll be safe!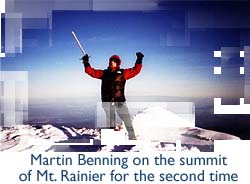 Present Day
Over the last six years, Jacob and I have climbed numerous peaks in the Cascade Mountains, including Mt. Rainier more than three times; Mt. Adams twice; Little Tahoma twice; Sloan Peak; Mt. Baker twice; and dozens of rock and ice climbs. Recently, we joined forces with two of our fraternity brothers, both of whom have excellent climbing abilities?and the ambition to support the ?7 Summits Cancer Climb.?
This June, we will head for Alaska to climb Denali, the highest peak in North America. We will plan and lead our own expedition for three weeks up the Kahiltna Glacier where we will hopefully reach the 20,320-foot summit.
Cancer does not necessarily have to be a debilitating disease. It can be overcome, and survivors can live their dreams. Our goal is to deliver this message through our own actions and help others live their dreams.
Martin is a healthcare Certified Compliance Professional, and currently works as a Quality & Compliance Manager for Seattle Surgery Center. He volunteers at Children?s Hospital not too far from his Seattle, Washington, home. He also serves on the Board of Directors for the Washington State Association for Healthcare Quality, and is a member of: the American College of Healthcare Executives; Washington State Healthcare Executive Forum; National Association for Healthcare Quality; and the Northwest Ethics Network.
Copyright ? AIM International, Inc. Used with permission.