77-year-old M.P. Biddy really makes tracks!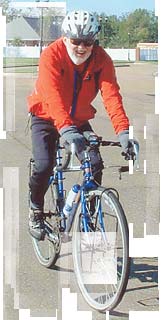 Few seniors can keep up with AIM Member and bicyclist M.P. Biddy!
He recently received a letter from the Senior Olympics confirming that he has been accepted to compete in the 2005 games. This athletic event for senior citizens will be held in Pittsburgh, Pennsylvania, with the time trials beginning on June 2, 2005. M.P. plans to ride in the 5k, 10k, 20k, and 40k races?all in one day. That?s a lot of miles!
To train for the event, M.P. says that he is riding 100 miles per week in his home state of Mississippi. And, as usual, M.P. claims to have a ?little guardian angel? on his shoulder to keep him from being hit by all of those oncoming cars!
M.P. is very excited about the competition?and he hopes to prove once and for all that seniors need not give up on good health and good nutrition.
Go M.P., go!
Copyright ? AIM International, Inc. Used with permission.