US figure skater Ryan Jahnke adds a healthy diet to his 2006 Olympic plan!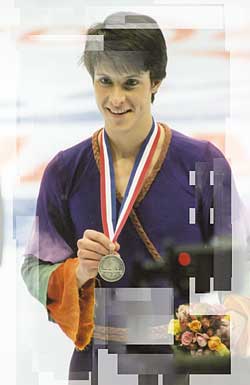 US figure skater, Ryan Jahnke, has always dreamed of being an Olympic champion?and he hopes that with hard work and a healthy lifestyle, he will make it to the 2006 Olympic Team.
Ryan trains all year long, 6 days a week, 7 to 8 hours per day. He also takes AIM BarleyLife? three times a day as part of his routine. To say that he is ?focused? would be understatement for this already accomplished athlete.
Ryan finished 4th at Skate Canada in 2004, skating 6th in the short program, and 3rd in the free program. He completed the year, finishing 5th at Marshall?s World Cup of Figure Skating, and 6th at his first Grand Prix Final. For more information about Ryan, visit his website.
A true competitor, Ryan takes great care to plan his diet?and his supplement intake?almost as carefully as he plans his training schedule. ?This is my profession and my career,? he notes, indicating that he will leave nothing to pure chance, not even his diet.
Ryan begins each practice session with AIM BarleyLife?
Ryan says he plans his meals very carefully to be sure that he receives the right amount of micronutrients. He also supplements with AIM BarleyLife?, taking a tablespoon or so straight under the tongue on an empty stomach right before a practice session. He quickly swishes the green barley powder down with water, and off onto the ice he goes!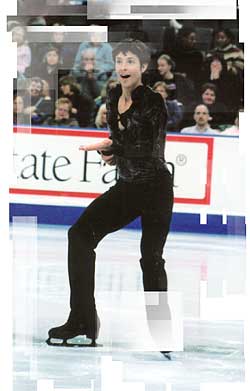 When he travels for competition, Ryan is sure to take the ?basics? with him wherever he goes, and that usually includes AIM BarleyLife? and AIM Just Carrots?. ?I?m convinced that the average American diet is not the most beneficial thing for healthy living,? comments Ryan. ?And, when I travel, it?s super hard to get fresh vegetables.?
Ryan tried other nutritional supplements, but he noticed a big difference with AIM BarleyLife?. ?I?ve noticed more wakefulness, and even in my training, I have more endurance. Plus I?m mentally sharper when I?m on the ice.?
Maintaining a healthy lifestyle
Ryan was first introduced to AIM BarleyLife? through a program at his church. Ryan and Tashiana, his wife of 2? years, are active in their church in Colorado Springs, Colorado, where they teach a class for underprivileged children. After attending a ?Life-Giving Lifestyles? seminar at church, the couple discovered the benefits of AIM BarleyLife?.
Ryan is a vegetarian and has been juicing for about 3 years. He obviously finds the whole food concentrates offered by The AIM Companies? ideal for his vegetarian lifestyle. As an athlete, he appreciates the concentrated nutrition of the AIM products. ?When you?ve got so much on the line, it?s important to get good nutrition. I?m convinced of the integrity of the AIM products.?
The AIM products help this world-class althlete build strength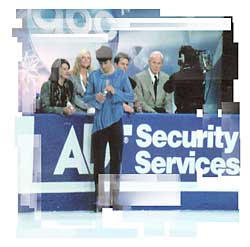 Ryan also supplements with AIM Just Carrots?, which he says gives him beneficial carbohydrates, without adding the extra bulk and weight that would impact negatively on his performance. And, he notes, he can supplement with the AIM products, without any fear of the professional drug testing which is routinely administered to world-class athletes.
The all-natural micronutrients and the strength-building benefits are the primary reasons why he likes the AIM products. ?There is a common misconception, even among athletes, that if you?re not eating meat and potatoes, you?re not going to have any strength.? With the AIM products, ?I?m building the base strength of my body.?
Building strength is especially important for Ryan right now, since he experienced a recent back injury while touring this winter. The injury couldn?t have come at more inconvenient time?just one week prior to the US National Figure Skating Championships in Portland, OR, in January. He finished a disappointing 13th overall, but he is determined to gain strength in 2005, and make it to Turino, Italy, for the 2006 Olympics. ?I?m getting healthy. I?m setting goals. And, I have a real solid plan.?
Along with the AIM products, Ryan can also count on the prayers and support of his entire AIM family. We will all be praying for his success in making it to the Olympics for 2006!
Copyright ? AIM International, Inc. Used with permission.